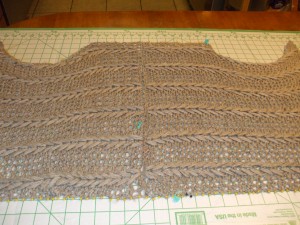 I love the Craftsy Mini Classes. When I first joined their site looking for free patterns, I came across a link to the free mini classes. At first, I thought that these would be similar to other free classes I have tried. Those classes were pretty much promos for the complete class. I didn't come away with very much information.
When I tried the mini classes on Craftsy, I was surprised. The classes were very informative and the contained full patterns and download information. You can ask questions and other members of the class will answer them.
To date I have taken Curvy Crochet with Marly Bird, Blocking Handknits with Kate Atherly, and Ins and Outs of Grafting with Anne Hanson. I really enjoyed the classes. I learned how to properly block my crochet projects, how to adapt a crochet pattern to fit my unique curves, and how I could graft a knit item to another knit item—once I learn how to knit.  Currently, I am taking a brand new mini class, Amazing Crochet Textures with Drew Emborsky. Some of you may know him as the Crochet Dude.
The mini classes are shorter than the for fee classes. However, you still get a decent length class—the one I am currently taking is doing something of a crochet-a-long for an afghan. If crochet is not your thing or if you want to learn a new skill check out all the mini classes that Craftsy has to offer.
Let me know what you think.